Programmatic Audit TONIGHT at the Ventura County Board of Education, 6pm

Every year our administrative team presents an annual programmatic audit to the Ventura County Board of Directors who authorize our charter. At this audit, we present data on student achievement, our progress toward meeting our annual goals, and data on our school climate and culture. Consider joining us tonight in support of our school and to learn more about our process of program accountability!
Participation in CCSA (California Charter School Association)

Last week we were able to send four teachers, two administrators, and our board president to the annual California Charter School conference held in Sacramento. Everyone who attended the conference left with inspiring ideas, and we are excited to bring them back to our whole community to benefit our families! It was also a wonderful opportunity to connect with legislatures and other charter leaders to discuss the importance of Charter schools as public school options for families in Ventura County.
Women in History Presentation

Ms. Nicole, our middle school history and social studies teacher, coordinates a Women in History project every year. This year, 11 of her students will be presenting their projects in two mini-assemblies to be held on April 8th at 10:10 or 10:45.
Early Release on Wednesday, March 20th

ALL Students will be released at 12:20 on Wednesday for additional staff development. Please do not park in the drop-off area between 12-12:40pm. If you need after school child care, please contact Extensions today or tomorrow! Our teachers will be discussing and providing feedback on certain areas of our Charter Renewal and engaging in professional development around alternative student assessments.
Musical

Tickets On Sale Now for the Spring Musical - Disney's "Aladdin, Jr"
The Performing Arts PMC is proud to present this year's Musical - Aladdin, Jr - directed by our own parent and Musical Theatre teacher, Ms. Noreen Smith.
We have 2 completely different casts this year - LAMP and CARPET - so if you want to see your favorite actor or actress, you can get the full list of performers for each night here -
http://bridgespac.org/performing-arts-pmc-2/
Show dates are:

Thursday, Mar 28 - 7pm - Lamp Cast
Friday, Mar 29 - 7pm - Carpet Cast
Saturday, Mar 30 - 7pm - Lamp Cast
Sunday Matinee, Mar 31 - 4pm - Carpet Cast
Seating is reserved and sold online. The cost is $10 for Premium Seating and $5 for General Seating. All remaining tickets will be sold at the door each night. Light Refreshments and Souvenirs will be sold at the show. We hope you can join us and our talented students!
To buy your reserved seat, CLICK
HERE
!
Family Survey

We love opportunities to collaborate with other schools in our area, and Kristen Walker, the Assistant Director at MATES, is collecting survey data from Charter Schools in California as part of her doctoral study. She is hoping to learn more about the Parental Involvement at Charter School is asking for our families to participate. You can fill out her survey online here:
https://callutheran.az1.qualtrics.com/jfe/form/SV_0PSok9pjvZjcnVH
Upcoming Dates for your Calendars

Mon. March 18, 6pm: Programmatic Audit Presentation at VCBE
Wed. March 20: Panera Bread Fundraiser at the Janss Mall
Thurs. March 21, 6:30pm: Parent Education Night with Shoshanna Wheeler
Tues. March 26, 6:15pm: Bridges Board of Director's Meeting
March 27-31: Aladdin Jr. Musical 7pm-9pm
Tues. April 2, 8:30am: Coffee Chat with the Directors
Mon. April 8, 6:15pm: Bridges Board of Director's Meeting
Fri. April 12, 1:30pm: Fun Run/Spring Carnival
Mon. April 15-April 19: Spring Break, No School
We hope you have a wonderful week!
Dr. Kelly and Ms. Cindy

Fun Run Preparation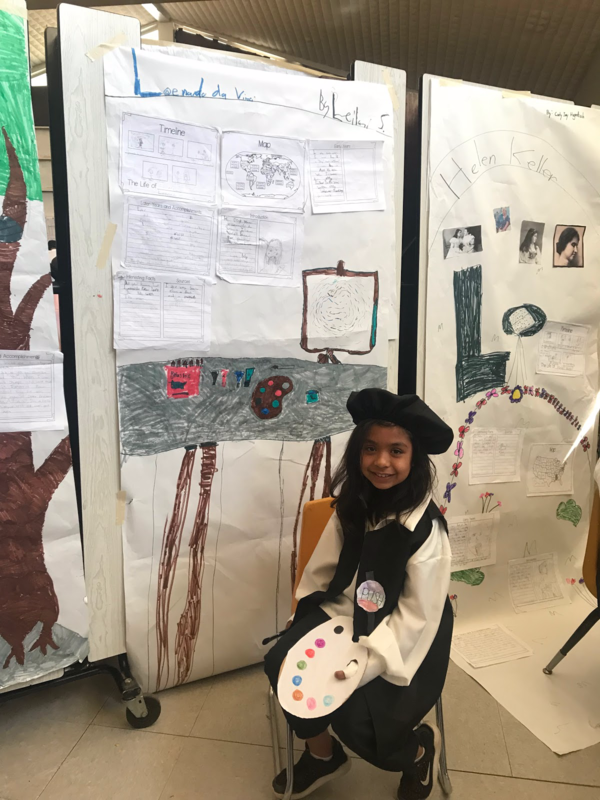 Leonardo da Vinci in our 3rd Grade Wax Museum!
A couple of our Fun Run Cheerleaders!